How The World's 7th Largest Suspension Bridge Battled Voltage Fluctuations



Case Study For Humber Bridge, U.K.
Spanning 2.22km long and carrying an average of 120,000 vehicles per week, the Humber Bridge in Yorkshire, England, is the seventh-largest suspension bridge in the world.
In an effort to prolong the achievable design life of the Humber Bridge's suspension cables, its engineers had decided to install several state-of-the-art dehumidification systems. 
In order to install such systems, additional electrical power would have been required and would have involved the running of long supply cables – from both sides of the bridge.
The Problem:

Severe Voltage Fluctuations From Seismic Shock
To provide for the optimal performance of the dehumidifiers, it was absolutely imperative to ensure the stability and quality of the incoming power supply at 415V.
Having worked on other suspension bridges in the U.K., engineers from the Electrical Contractor,  Pennine Control Systems – knew all too well about the flexural and torsional vibration effects on voltage stabilisation equipment.
They were faced with several challenges including:
The inherent voltage drop from long cable runs

Incoming voltage values that had the possibility of dropping to as low as 356V

Heavy voltage fluctuations caused by constant load change

Load change which was due to continuous vehicular movement on the road decks 

The need for total power rating requirements of up to 420 KVA.
Based on their past experiences, it was clearly shown that the voltage stabiliser systems previously used in the UK had not proven themselves sufficient to cope with the strict requirements needed to ensure optimal performance. 
Thus, to overcome these obstacles, the team responsible for building the Humber Bridge decided to search for an Omni-voltage optimising solution – one that could reliably solve these challenges. 
The Ashley Edison (UK) Solution
In 2010, Ashley Edison delivered a fully customised voltage solution, to effectively accommodate the precise electrical and physical requirements of the suspension bridge.
Among the installations, it included the following series of Rack Mounted Servo-Electronic Automatic Voltage Stabilizers:
A Servo Electronic Digitally Enhanced Design (Servo AVR)

A Stepless Voltage Regulation at 415V (± 0.5% output voltage accuracy)

A wide input voltage tolerance

– which helps

stabilise a voltage swing from 340V up to 477V.

A Forced-Air Cooling System for improved operational efficiency

A Fast Response Time (<1.5ms)

An Inbuilt High Overload Capability (10x max current rating for 2 seconds)

An Independent Phase Balancing & Control: An Automatic voltage sensing & precise regulation to ensure individual phase voltages remain stable – from no load to full load.

A Class II SPD – For Lightning Surge Protection

A Rack Mounted Enclosure

An AquaStop – A Protective PCB coating against moisture ingress

A Transient Voltage Surge Protection (TVSS) helps to protect critical loads against harmful high energy surges, transients, and spikes.
The Complete Solution comprises the following:
Automatic Voltage Stabilisers (Model: SES Series)

75 KVA x 4 units

60 KVA x 2 units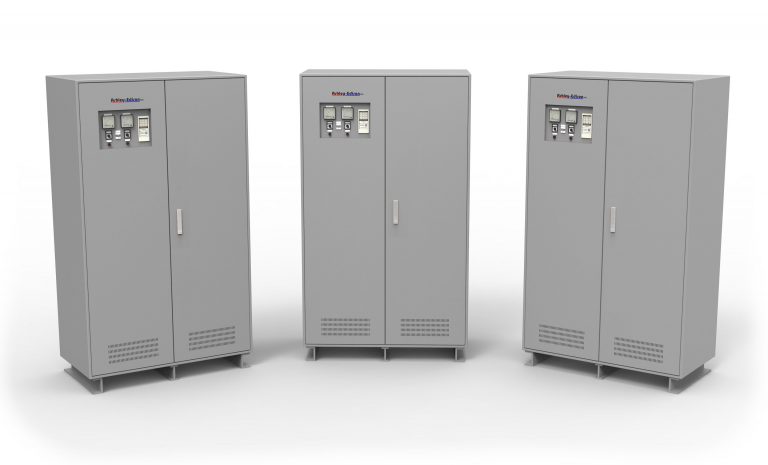 The Result
Since Ashley Edison's delivery of this solution, it has helped to successfully unlock the desired operational outcome in the bridge's dehumidification systems, which has enabled the load to enjoy constant and stabilised incoming voltages – regardless of load change or unbalance.
The upgrading project for the Humber Bridge was completed 1 year ahead of schedule and ever since, has been able to achieve optimised operational efficiency.
Today, all 6 units of the Automatic Voltage Stabilisers delivered have still proven to be a success in not only preserving but revitalizing the significance and heritage of a 40-year-old landmark in the U.K.
To learn more about voltage optimisation for bridge and tunnel applications, drop us an email at sales@ashleyedison.com.
For more case studies on how other Governments have also adopted these advanced voltage regulating technology, read about their projects here.